The GGWCup History
From Denmark To Everywhere
The Global Goals World Cup was created by a Danish organisation with a big idea: Create sports events that inspire amateur athletes to become world champions of the UN's 17 Sustainable Development Goals and drive progress and change in their communities. We launched in 2016 and this is how we put the power of sports behind the Global Goals everyday to help people and planet to flourish.
For upcoming events and tournaments, please jump to the front page. And find more about past tournaments here.
Overall Champion: Yellow Ladies from the Czech Post playing for Good Health & Well-being, Global Goal 3
Action Champion: Forca Goa from India. Playing for Good Health & Well-being, Gender Equality, Responsible Production & Consumption, Global Goals 3 + 5 + 12
Style Champions: Goleadoras from NYC playing for Gender Equality, Global Goal 5
Runner up: Greens from Saudi Arabia playing for Life On Land, Global Goal 15
For the 4th time we played in New York City during the UN General Assembly Week. And this year we are thrilled to present a legendary lineup from artists, royals, disruptors, change makers and innovators including Saudi Arabia Ambassador to USA, Reema, with referees, Nikolaj Coster-Waldau, UNDP Goodwill Ambassador and Game of Thrones Emmy-nominated actor.
The GGWCUp held 48 storeys up into the New York skyline at the SAP building Hudson Yards. And running alongside the tournament was a spectacular line-up of high-level speakers including CEO of Women Deliver, Katja Iversen, CEO of Burning Man, Marian Goodell, founder of Female Quotient, Shelley Zalis, and many others.
Competing teams came from New York, Greece, Czech Republic, Saudi Arabia, India and Morocco will play to be the best team for the world and lift the one-of-a-kind trophy designed by artist Olafur Eliasson.
See the recap created by Stephen O'Regan, The Beautiful Game NYC.
1 Week | 5 Summits | 17 Goals - Again this year we are proud to be part of the biggest week of the year: The Global Goals week in NYC to build momentum to achieve the SDGs.
GGWCup Hack @ Global Goals House by SAP Next Gen, Cannes Lions 2019
June 20 2019– GGWCup Hack at the Goals House, Cannes Lions w/ SAP Next-Gen

"My hope for sports to be for EVERYONE. Also that clubs, schools, ans people dare to be responsible for the world." – Majken Gilmartin.
June 13-16 2019 - EU x GGWCup Hack – The People's Political Festival (Folkemødet) Bornholm, Denmark
WE WON. To all the women of the world who unite to play in a #GGWCup. This award is for you.
It is a brand new honorary award. Verdensmålsprisen (The Global Goals Award) is awarded for the first time ever at the The People's Political Festival in June 2019, Bornholm Denmark.
The Czech Republic and the Association of Social Responsibility honored us with a special SDG Award for our work for the Global Goals.
The trophy is design by Linda Matějovská @qdesigners.co (IG) and made out of recycled glass. The ball is one of the GGWCup Prague game balls.
May 29 2019– GGWCup Prague, Czech Republic
On May 29th 2019 in Prague the world got new Global Goals Champions. 18 teams participated and the winners was: GGWCup Champion Yellow Ladies from Ceska Posta – Team Kopacky from Plzensky Prazdroj won Best Advocacy. Team PoweRED from Vodafone won Best Style. Team Better World Starts at Home from IKEA won for Best Engagement. Team The Same won for Most Sustainable Outfit.
A huge thank you to our local organizer the Association of Social Responsibility for bringing Global Goals World Cup to Prague.
March 8-11 2019 – GGWCup Hack Citizens with Sap Next-Gen @ SXSW - Austin TX, USA
May 14 2019 – GGWCup Europe / Copenhagen Denmark
We transformed the urban arena by the BLOX building into a large football arena - the Her Story Arena - including playful space spaces for audience, music, food and talks. Our host DAC and BLOX has since 2008 been supporting the UN network Global Compact and is the meeting place for architecture, design and urban culture in Denmark.
The GGWCup Europe was supported by the European Commission & the European Union.
February 9 + 10 2019 – GGWCup Bangkok NIST International School.
For the second time NIST and Chelsea Foundation hosted a two-day football festival with games, conversation and community action: On Saturday sixteen teams of women participated in the GGWCup Bangkok, and on Sunday boys and girls teams participated in the under-11 #GGWCup Bangkok.
PlayOnside won, followed by Pink Falcons. PlayOnside are from North Thailand, close to Burma, where the team, a group of teachers, promote gender equality to the Burmese community.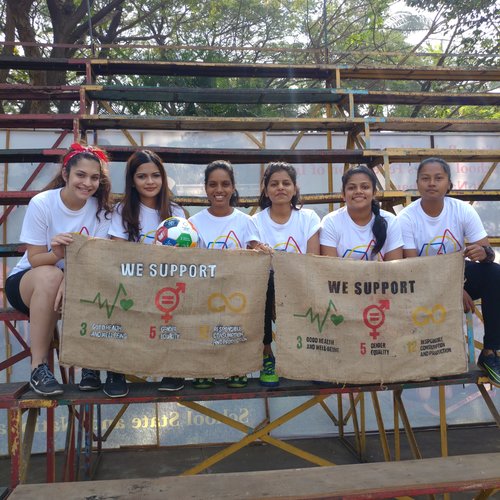 February 2 2019 – GGWCup Mumbai Fr. Agnel Multipurpose School
Twenty Four all-women teams competed in the event which took place for the first time in India. The champions, Forca Goa, will represent India at the GGWCup Finals in New York during the UNGA week September 2019. Before the action began on the pitch, each team presented their contribution towards attaining specific sustainable goals. OSCAR Foundation from Mumbai and Forca Goa from Goa were the two finalists and played a brilliant match, but ultimately Foca Goa took the trophy home.
2019 World Economic Forum and Goals House in Davos
Warm greeting from Davos.
Let's go play for the world. We Are Ready!
2018 Global Goals League Johannesburg
400 young people learning about the #GlobalGoals through dance and football. Thank you Alexandra Northrand Local Football Association, Field Band Foundation (hosting) PM of Norway Erna Solberg, Worlds Largest Lesson, Lindiwe Hani, SAP Next-Gen, Global Citizen, and the Norwegian and Danish Embassies in South Africa.
We got four new Global Goals Champions teams in Johannesburg. We made it through to the semifinals playing outside. Then we got hit by massive thunderstorms. We could not continue, so we jumped into safety in the big tents set up for shade and decided the last 4 teams would be combined winners because that was the best symbol of the day, a beautiful #togetherness day. This means Global Goals World Cup Johannesburg has 4 winners that will all be going to the Global Citizen Festival December 2nd. Congratulations to Madiba Youth org., Kromdraai Girls, Team Dedela and The Soccer Divas Club, Mombasa. You are amazing superstars.
We also honored 2 other teams for their endless support and love for the game. Look out for these young women: Skateistan SA and Nirvana - amazing rolemodels and new leaders. #BeTheGeneration Massive thank you to all partners, volunteers and players.
It was a close match but Hurricane Fighters playing for Goal 13: Climate Action won the final against the Sun Beams playing for Goal 4 Quality Education after a nerve-racking penalty shoot-out. Thank you to all the teams, players, volunteers, sponsors, partners and all you who game out and cheered! Truly a memorable day in the Botanical Garden.
The two finalist teams - @goleadoras & @sandiegosoccerwomen - were both truly deserving, but Goleadoras took the trophy. They entered the tournament ranked number one on engaging the crowd, top five on action and on the day, their creative style and football skills took them all the way. They even brought their own backup dancers!!
We wish these inspiring young women all the best in their future endeavours to realise their full potential as community leaders, and gender equality advocates.
Congratulations to all the fantastic teams. And a huge thank you to all our beautiful partners and volunteers who made this day spectacular.
2018 The ball gets its own exhibition at the Nobel peace Centre in Oslo, Norway
Norwegian Prime Minister and SDG Ambassador Erna Solberg launches the #TakeTheBall campaign and brings the SDG ball to her official meetings.
Global Goals World Cup is shortlisted among 400 entries for Global Impact of the Year Award by Beyond Sport.
2018 TEDx talk in Bergen, Norway
Majken and Rikke did the first TEDx talk in Bergen.
"If Women had Been the Social Architects of Football"
The first Impact Report was published.
Showing that teams that play in a GGWCup feel more competent and confident to become activists for the Goals, and women who would not otherwise play sport are inspired to participate.
Sustainable Mindz moved mountains and put on a spectacular Global Goals World Cup for the UAE.
Hostet at the Sustainable City in Dubai 23 passionate women's teams played for the world they want.
MOU with Sustainable Mindz to cover MENA
2018 First Global Goals League in Buenos Aires
In Argentina is everything and is mostly played by men.
In April 2018 the first Global Goals League was launched in partnership with the Royal Danish Embassy, Boca Juniors, the city of Buenos Aires and Arla Food Ingredients.
Leo Messi shares the video about the event with is 89 mil. followers!
The girls playing in the league are invited to present their experiences at the Youth Olympics later in the year.
Each team plays and take action for their chosen Goal every week.

The Global Goals stand still without action. Global Goals Impact Games are about togetherness and understanding the UN 17 Global Goals by playing ball.
Soccer is one of the world's most powerful tools to communicate and implement change. Through soccer we can enhance curiosity, build health, develop the mind and trust amongst each other.
Global Goals Impact Games will inspire children, coaches, teachers and players to help take actions for the Global Goals locally and globally.
www.ggimpactgames.com is a platform with free games and drills to teach children and playful minds about the Global Goals. Amazing Becca Todd (2nd from right) heads the effort to develop new games and trains kids at Dana Cup. Marie Hansen builds the concept and the website.
MOU with Worlds Largest Lesson
Big Mango FC won the first Asian Global Goals World Cup in Bankok, hosted by NIST International School and Chelsea FC Foundation in partnership with UNDP.
Pandora was main sponsor and the Royal Danish Embassy held a dinner for the partners. GGWCup Bangkok was scheduled for February 2019.
2017 GGWCup New York City
The Second Global Goals World Cup in NYC was played at the Brooklyn Expo Center with 24 teams!
Opening speech by HRH Crown Princess Mary of Denmark, New Sonsors GANNI, Shamballa, Joe and the Juice, Cadilac & Muuto. Partnership with Global Citizen, UN Women and Women Deliver. Annie Lennox nominates a player for the SDG 5 Dream Team. Moving the Goalposts bring the trophy home to Kenya.
2016 Majken Gilmartin won the IOC Trophy for Women and Sport, Europe
Each year, the IOC Women and Sport Awards are given to women, men or organisations who have made remarkable contributions to the development, encouragement and reinforcement of women's participation in sport.
Six trophies are distributed each year – one for each of the five continents and one World Trophy. To select the winners, the IOC invites each IF, NOC and Continental Association to propose one candidate to the IOC Women in Sport Commission.
World Trophy: Ethiopian sports journalist Dagim Zinabu Zinabu Tekle
Winner for Africa: Ms Felicite Rwemarika (Rwanda)
Winner for the Americas: Dr Carole Oglesby (USA)
Winner for Asia: Ms Maria Leonor Estampador (Philippines)
Winner for Europe: Ms Majken Maria Gilmartin (Denmark)
Winner for Oceania: Ms Moya Dodd (Australia)
Click HERE and more about all winners.
The SDG ball is displayed at the Olympic Museum in Lausanne (2017).
2016 GGWCup New York City
The Global launch of GGWCup was held alongside the Social Good Summit @92Y With support from the Danish Ministry of Foreign Affairs, UNDP and Goodwings.
We got our first ambassadors: Lene Nystrøm (Aqua), Birgitte Hjort-Sørensen (Borgen) Nikolaj Coster-Waldau and Victor Ochen.
Moving The Goalposts took the victory in Nairobi. 2500 spectators cheered them on. They won a trip to compete in the tournament in New York later that year. Eir partnered with the Royal Danish Embassy, Save the Children and GAIN for this event. With support from Safaricom, Flora Holland & Little Sun. -The amazing Ihan Haydar from the danish band L.I.G.A composed our Global Goals anthem!
MOU with Save the Children
2016 First GGWCup in Copenhagen
The first Global Goals World Cup tournament was held in Copenhagen during the Women Deliver Conference. Artist Olafur Eliasson donated little suns as medals. Save the Children, the city of Copenhagen, the Danish FA and Danfoss were among the partners. Team Bikespice Your Life won the grand prize of participating in the Global Launch in NYC.
In 2015 Rikke Rønholt thought that the way to put gender equality and the Global Goals on the agenda in Denmark was through a women's football tournament.
It just so happened, that Majken Gilmartin had been doing that for years!
The two women met, and the idea of the Global Goals Ball and World Cup was born.
MOU with UNDP to bring the Global Goals to life through football.
Join us as the story unfolds