Team: Feel Brave
GGWCUP COPENHAGEN QUALIFIER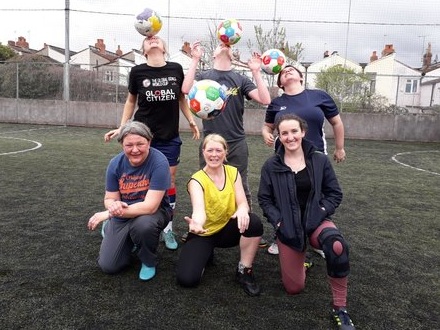 Global Goal 3 - Good Health & Well-being
Give it up for Becca Todd and her team Feel Brave!
Give it up for Becca Todd @becca.todd4 and her team FEEL BRAVE playing for #SDG3 Good Health and Well-Being. Becca is passionate about "confidence through sports" and use sport to help young people to find their confidence and have fun. 😎🤸‍♀️
Becca is one of the EU Ambassador Coaches selected as part of our overall project GGWCup Europe. Learn more about the special ErasmusPlus project here and read more about Becca here.
Team Feel Brave will be playing for Goal 3: Good Health and Well-Being.
Feel Brave F.C is a women's football team ... with a difference! They use sport to help young people to find their confidence and have fun!
Feel Real FC was launched in December 2018. See the first start-up meeting here.
Everyone is welcome. The are totally inclusive; and welcome players from all backgrounds to come together to play for fitness, fun and friendship. Get ready to build confidence through sport.
Follow the team on instagram @feelbrave.ambassadors.
How will the team take action for their Goal?
The team's aim is to focus on mental health and wellbeing. It is a topic that many of our players are affected by directly or indirectly.

The team are passionate about helping other people to discover sport and exercise as a way to enhance confidence and improve self-esteem. They are hosting free female football sessions in their local communities to encourage everyone to get involved!

After a training session the team wants everyone to say that they feel fantastic and they love getting together with the other girls to kickstart the weekend!
"Running Team Brave itself enabled us to raise awareness of mental health and the power of sport to enhance it, both within our team and also to the wider community through our social media and being featured in a local newspaper.
We collaborate closely with women's health charities One25, Pause and 1625 to offer the opportunity to play to some of Bristol's most vulnerable women. Our outreach work for young people (e.g. Confidence through Sport programmes for primary, secondary schools, our refugee families football taster session and hospital groups) also applied to awareness and education since we always highlight confidence, self-esteem, mental health and how sport can be so beneficial. The participants feel the positive effects themselves and often report on how great they feel after a Team Brave session."
In the media
Bristol247.com Friday May 3, 2019
Football As A Force For Good by Ellie Pipe
Leave a comment and cheer on team
Feel Brave
The European Commission support for the production of this publication does not constitute an endorsement of the contents which reflects the views only of the authors, and the Commission cannot be held responsi­ble for any use which may be made of the information contained therein.